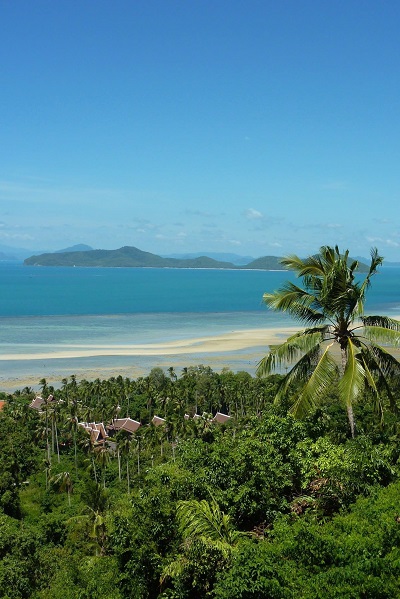 Hammock Villa is located on the biggest and most popular island in Thailand, Koh Samui well known for its beaches and its cool and relaxed atmosphere. A mixture of natural beauty and all facilities made the success of this Island. Samui is surrounded by many other exotic islands, each offering limitless choices of exploration.
We are at the south part of the island, the most protected and unspoiled part, 40 minutes from the airport and five minutes from Laem Set beach. We are five minutes from the famous Spa, Kamalaya, and other well known yoga centres. For a more active life, we are surrounded with delicious restaurants and bars on the beach. This area is the expats favourite. You find here the real Thailand atmosphere, and you can go everyday to our local fishing village, Hua Thanon for the best fish on the island.
Lamai is 10 minutes by car and Chaweng 20 minutes away. The main shopping centres are 10 minutes drive.
International schools and world class hospitals are available on the island.
Getting there
Samui is very well connected with direct flights to Bangkok, Phuket, Krabi, Kuala Lumpur, Singapore and Hong Kong. A selection of fast ferries offers a connection to the mainland. We are 40 minutes from the airport and guests can always be collected.
Communal facilities
A large 25 metre common pool and a yoga sala is available for all people living on the hill.
Beaches
Samui is well know for its beautiful sandy beaches, we are 5 minutes drive from Laem Set Beach, 10 minutes from Lamai beach, and many smaller beaches can be found within walking distance.
Shops
Many small local 7-Eleven or family marts are five minutes away for last minute shopping. The main supper markets are 10 minutes away. The local fishing village Hua Thanon has an open daily market.
Boat Trips
Boat trips are available from nearby villages, like Bang Khao and Tong Krut, to the surrounding islands, Koh Tan and Koh Matsum. Boats for fishing or for going to the more remote islands are also easily hired locally.
Restaurants
Numerous small and delicious restaurants covering any price range can be found around and offer all types of food. The famous Sweet Sisters in Bang Kao is just 6 minutes away. Tong Krut offers endless choices and the same goes for the lovely fishing village of Hua Thanon. Both 10 minutes away.
Yoga
This part of the island is well known for yoga with Yoga Thailand few minutes away, Kamalaya and Banburee Hotel offering the best classes on the Island and classes can be organised on our beautiful dedicated yoga sala near our common pool.
Santikhiri Community
We are an international community, sharing the same values of peace, comfort and protection of the environment.
We benefit from an excellent management team. All our houses have been built in harmony with nature and far apart from each other in our extensive common land, unique in Thailand and well kept by five gardeners.
We are a gated community, with 24/7 security, with guards at the entrance and at the top of the hill.